Sharing is good karma:





Looking back on my childhood I try to think of something that stands out the most, something I have fond memories of, something I really enjoyed and would love to do with my family, with my own kids. It is quite easy—I loved winter time when my parents were not too busy on the weekend, tending our huge garden, and we would sit around the dining table and play cards or other games. There was not such a wide selection and variety of games in the former Czechoslovakia then as there is now here but we still had fun.
When my kids were little I couldn't wait for them to grow up a little to be able to play a board game with us. It was quite challenging to find games that would be suitable for both my kids when they were younger—a game we could all enjoy. My kids are 22 months apart and at that age it makes a huge difference. We struggled to find a game that my son could play with us but would not be beaten by his older sister all the time. Yes, you can play Chutes and Ladders, Trouble, etc. but I've always wanted to include games that would be different, fun but would exercise your mind too. Besides, I'd get really bored with the usual lot that is available at Toys'r'us.
I have been collecting board games appropriate for my kids' ages for several years. We have so many now that it is even hard to manage to play all of them during winter (we spend most of the time outdoors when the weather allows it so winter is the best season for board games for us).
Every winter, once a week (mostly on Saturdays) I host a gaming club. I asked three friends of my daughter when she was in 2nd grade to join and it has been a huge success since then. They love it. Now when they girls are a bit older, they play games for 6 hours.
Update (2017): After five years of running the club for my daughter and her friends, I have created a second group for my son. We play even more than before and love it.
I know you will probably not buy all the games from my lists.  Just take a look and maybe it will give you an idea for a nice Christmas gift. Wouldn't you love it if your kids wanted to play a game with you instead of vegging out on the sofa in front of TV?
There is a separate list of games to play with younger kids here but if it is a game equally suitable for both older and younger kids, I will list it in both sections.
If you wish to learn more about a certain game, a great website is BoardGameGeek where you can see the rating, recommended age (both by the publisher and community), you can find useful videos about how to play that game etc.
Attention
I have recently updated my website and started making separate lists of games we own and play, based on the number of players. Check out the following lists for new games because I will no longer be adding the games to this list.
Party Games (games for a larger group, 5 or mostly 6 players and up)
Word Games and Other Education Games
Magic Labyrinth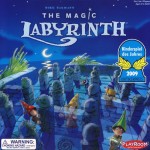 This game has been very popular with everyone and a lot of my friends (Moms) asked me where I got it when they saw us play it. Don't buy it for more than $30 on Amazon. I noticed the price was $99 on some days, then it went down to $28, then two days later back up to $50. Keep checking if the price is above $30.
Ghost Blitz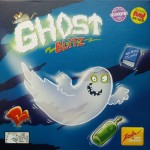 This is a fantastic game. A reviewer on Amazon nicely described it: "5 items with 5 distinct colors (white ghost, red chair, green bottle, blue book, grey mouse). Flip a card, the card has a picture of two of the items; if the item pictured is the color of the actual item (say a grey mouse sitting on a blue chair), grab that item (the mouse) as fast as you can. However, if the items pictured both are the wrong color (say a red ghost with a green book), then grab the only item not shown in any way (not a ghost, not red, not a book, and not green – leaves you with grey mouse, quick grab it!)." My son was able to play with us last year when he was 6. I think any kid above age 5 should be able to play it.
Taiga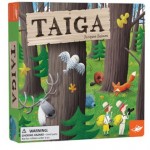 This memory game with a twist is an easy concept so younger kids can play but it is hard even for an adult because it is not easy to remember the location of the animals. There is a different animal on the front and the back of each wooden disk and as you constantly flip the disks you have to try to remember what animal is face down in order to find it when you need it. It is a fun game but not very well known in the US I think. I discovered it in Prague when visiting my favorite store that specializes in games.
Whoowasit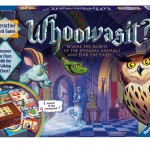 Although the recommended age online is 7 and up, my son enjoyed this game even before he turned 6. Because it is a cooperative game, it is a perfect game to play with kids of different ages. It has a magic feel to it because the electronic treasure chest talks to you and gives you clues when you press buttons. Read about it on Amazon to get a better picture
Castle Panic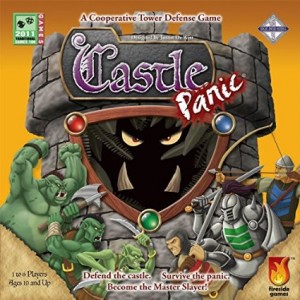 We have only played this game as a family so I can't tell you how it would work for let's say my daughter and her friends. The recommended age is 10 and up but because it is a cooperative game, my son could easily join us when he was only 6. It is something different from the other games we own and my son is always excited when we suggest playing it. There is a nice review on Amazon that could help you choose which of the strategy games is right for your family. Update: We got an expansion to this game because I was told it makes it much better. We have not managed to play it with it yet.
Catan Jr.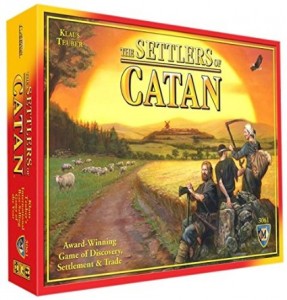 The Settlers of Catan is one of the most popular strategic games in Germany and I played it with my friends there. I was so excited to find that there is a junior version. There is a nice review on Amazon that could help you choose which of the strategy games is right for your family.
Carcassonne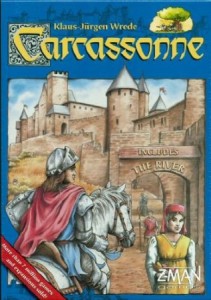 Although my husband and I used to play it a lot before our kids were born, we have not tried it with our kids. Now they are old enough to start playing so we will take the game out and I am sure it will be a hit. I can't wait to give it a shot with my daughter's friends in our game club.There is a nice review on Amazon that could help you choose which of the strategy games is right for your family. We bought this game in Europe and it is expensive on Amazon but I think Rio Grande Games Carcassonne – The Castle is probably the same game.
Labyrinth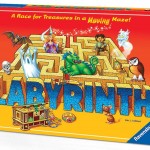 We own the Junior Version, which is great. If we didn't have the Magic Labyrinth, I would have bought this one a long time ago. But based on the reviews it is as good as the junior version so I wouldn't hesitate to buy it.
Zooloretto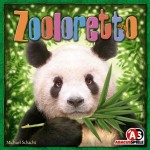 Another European strategy game that was recommended to me. A nice game.
Chateau Roquefort or under the title we own it: Burg Appenzell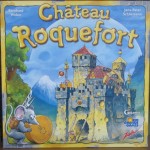 The only game I list here that might be hard to obtain. It is a fabulous game though. If it was easy to get I'd have it at the top of my list. You can try to email this store because they often order the games again even if they are out of stock. And here's one more link, just in case.
No Stress Chess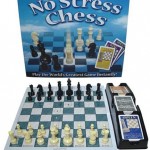 We played it with our kids and I must say that if you have an eight-year-old, then it doesn't make much sense to buy it. You will move on to a regular game pretty soon. My son (6), however, enjoyed the cards. A young child would probably benefit more from this game.
Boggle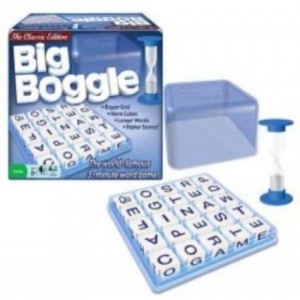 A friend of mine, who was helping me learn English when we came to the US, introduced me to this word game and I fell in love with it. We played it with the girls a few times and I think they enjoyed it. My daughter sometimes plays with me.
Charades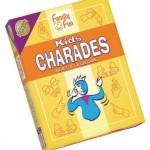 You don't need to get this particular one. It just happens that we bought this set because I bought it on a whim at B&N. We have had so much fun with it since then. Some expressions are more difficult for younger kids but there aren't too many of those and at least they can learn something new (e.g. metal detector).
Taboo Jr  OR Don't Say It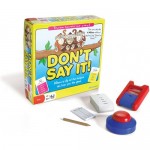 We have the former one because I bought it for my students before my kids were even born. But the price shocked me when I looked it up now so I think the game is now sold under the latter title. The girls in our Game Club love it! They never want to stop playing this one.  This game is fun for all ages. I used a German version of it with my students in high school (in German language class) and they all loved it—better than sitting down with a textbook.
Q-bitz This is a hit with girls in our Game Club!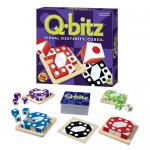 Robot Turtles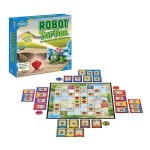 I have just stumbled upon this game and have read raving reviews so I am adding it to my "To Buy" list. Kids learn the basics of programming in a hands-on, screen-free environment.
Dixit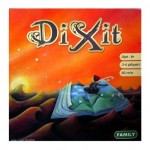 This game is so much fun that even my husband wanted to play with us when we had my daughter's friends over for a game night. If you play it more often you need to get the expansion packs though because you'd get tired of the same cards.
Pajaggle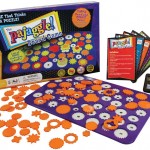 I discovered this game at a board game store at the mall. It is not as easy as it looks and it is fun—a different type of activity, trying to fit the shapes into the right spot. I bought two so that they could compete but if you decide to go for another color, someone can be at a disadvantage because I think the orange is easier than the yellow, for example.
Story Cubes
If you want to give your kids a creativity boost, this is a good and enjoyable way to do it. The dice are small and you can take them on trips with you. My kids like to create very silly stories.
Blokus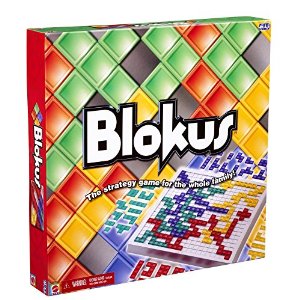 I used to play this game with my husband and friends before our kids were born. When my daughter was little she'd play with the pieces and placed them on the board. We haven't played this game with kids yet because I chose other ones that I thought were more fun at that age. I will introduce it to our "game club" this year (my daughter meets with her three friends to play board games once a week in winter).
HedBanz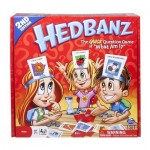 This game should be at the top but I figured most of you are aware of it and you didn't come here to see what you already know, right? But just in case you don't own it yet, as soon as your kids will try it, they'll be hooked.
Math Dice Jr. (great reviews!)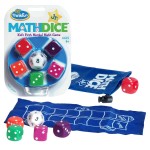 I know this one is probably not as much fun as the other games but because you can practice math skills while playing a game, I want to include it. When your kids outgrow it, buy the original set: Math Dice
Ravensburger Enchanted Forest (6 and up but enjoyable for kids over 4 if you modify rules or play with older siblings) You can read a review on amazon how to modify the rules here.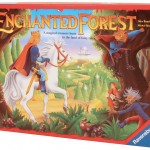 King of Tokyo Surprisingly entertaining. I was skeptical but the amount of raving reviews made me buy it. All the kids that tried it loved it.

Camel Up We love this game! So different from other games. No wonder it won the award Spiel des Jahres (Game of the Year).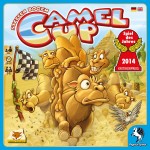 Tsuro: The Game of the Path This is a fun simple game when you want to take a break from more complex games. But it is not one of the games the girls in our club would like to play often.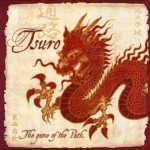 Scrambled States The girls in our game club enjoyed it quite a lot. I was actually surprised.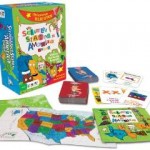 Carcassonne: Hunters And Gatherers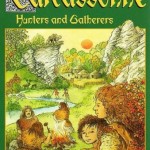 Clue  The girls had a lot of fun playing this game.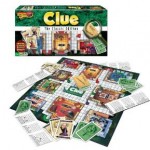 7 Wonders This game is awesome but you have to invest at least an hour into explaining it for the first time. I was a bit worried and am glad I waited until the girls were in 4th grade because they wouldn't have managed last year. But once you know the rules and play once, it is fairly easy to play.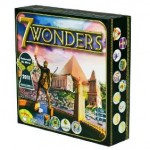 If you love 7 Wonders and only have 2 players, my son totally loves the version for 2 players called Duel.
One Night Ultimate Werewolf Board Game This is a totally different game–the girls were very excited but sometimes had trouble fibbing and lying, which is necessary in this game. I think they will get better at it every year as they get older.

Beasty Bar I got a tip for this game in a game store in Prague. A nice addition to our collection.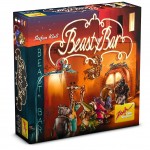 Escape I like to play cooperative games with the girls so I was immediately interested when I came across it online. It is good but a bit hectic and does not give them much chance to discuss their options. I think we will play it once in a while for a change but may prefer the other cooperative games.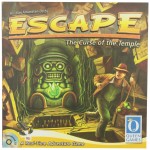 There is a card game for 2 players that is pretty good:
Apples to Apples Junior Everybody loves this game. My daughter wished for it for Christmas.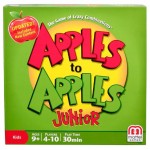 Pandemic (cooperative game)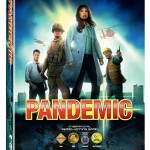 Betrayal At House On The Hill  (cooperative game)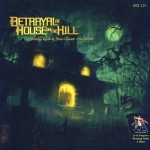 Hive Pocket  2 player game (I read reviews that recommended getting the pocket version because it also contains the expansion)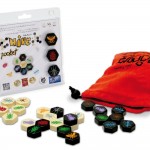 Lords of Waterdeep: A Dungeons & Dragons Board Game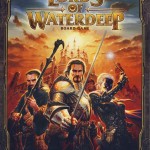 Other Games
Here are some games we do not own but are on my list. Some are for kids 8 and up, some for older kids (age 10 or 12 and up).
Sharing is good karma: