Sharing is good karma:





My daughter takes after my husband in a lot of things. As a little girl she'd prefer more realistic books with kids rather than animals and as she grew older she developed a love for non-fiction. I know, there are plenty of non-fiction books on thousands of subjects but that is not what she likes to take off the shelf and read. She likes non-fiction books similar to encyclopedias and almanacs for kids, books that she can flip through and open anywhere and learn some interesting facts about how a window pane is made or who the gladiators were, how people live in Africa, etc.
I used to buy Larousse encyclopedias for kids translated from French to Czech. My daughter, however, does not pick Czech books voluntarily; she prefers to read in English. I can still use the Larousse books when I have time to sit down with her but I am constantly on a lookout for books that she could just explore on her own when I am busy. You have probably never heard of them but they are fantastic. If you happen to have bilingual kids (Spanish) like some of my friends, you are lucky because you can check out these translations.  (More titles are below that book on Amazon so take a look at them). I have never found an English version, which is a shame, but I have discovered some books that our kids have been enjoying for years.
Let's start with books that you can look at with even very young kids (Scroll down to the end of this list for funny books):
People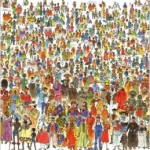 I bought this book when my daughter was 3 and it's been among our favorites since then. This review from Amazon says it all:
What a wonderful way to introduce the many peoples of the world! This is a fabulous book that presents all of the peoples of the world and is successful at making children think about the differences between them. Hopefully it will develop the empathy that is so needed in this world today.
Me On the Map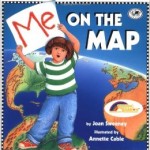 My husband is into maps; he can never walk past a map without stopping and looking at it. He always tests our kids whenever we have a map with us, whether we are hiking  or visiting an amusement park, if they know where we are and where we are headed. So one of the first non-fiction books we got was Me On the Map. It is a good introduction to the concept of maps.
On the subject of geography—my daughter was very excited about The Amazing Pop-Up Geography Book.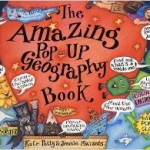 She even took it off the shelf the other day to look at it with her friend.
Speaking of great pop-up books, I must mention Robert Crowther's Pop-Up House of Inventions.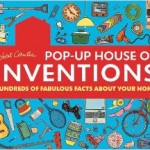 I don't understand why the recommended age range is 6-9. I like to look it myself and learn some fascinating facts. Here is an extract from an Amazon review:
Turn the book in your hands. Hold it so that the spine is at the top and that when you open it you reveal the first scene properly. Immediately you are plunged into a fully stocked and operating kitchen. Every object has a tiny fact attached to it explaining when it was invented or at least conjured up. Multiple tiny flaps reveal even more facts and surprises. Lift up the rug and not only will you see a wad of chewing gum stuck to the floor but you'll also learn when gum was invented and how it was first marketed as "Blibber-Blubber Bubble Gum". Opening each door and lifting each flap the reader makes their way through other rooms in the house. And even if you look under something or behind it, you're sure to see your curiosity rewarded with more facts, more secrets, and more objects. Finally, after walking through a living room, bathroom, bedroom, and garage, you come to a listing of "Some Inventions That Changed the Way We Live". Chronologically you can learn about inventions aiding in Food, Heat and Light, Plumbing, and Communication through each important historical era. Exhausting and intensive doesn't quite do it justice.
What Do You Believe?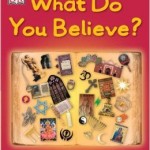 I saw this book at my sister-in-law's in Prague, translated into Czech. My daughter has asked some questions about different religions in the past so I decided to order it. It gives a nice overview of all the major religions in the world. It is a book we read together.
I have only recently come across this book that is awesome:
Big Questions from Little People: and Simple Answers from Great Minds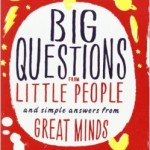 How does fire get on fire? Why do penguins live at the South Pole but not the North? A fantastic book with a lot of questions, each answered on one or two pages in a way kids can understand. We are hooked. I checked it out from the library to see if it was worth it and we are definitely buying it. Read the reviews on Amazon or here.
I know the following two do not exactly belong here but I couldn't think of a better spot for them. We have them shelved with non-fiction books because the kids just pull them out and read any part of the book they please, exactly like almanacs and encyclopedias. They both love them.
Sharing is good karma: