Sharing is good karma:





Sleeping Queens
When we travel, I try to take some card games with us and this card game was a hit with every kid we met this past summer. It is very appealing to kids because of the pictures and the theme and even a four-year-old can play it. In fact, we played it with my niece who just turned four umpteen times during our visit in Europe. She insisted on this game every night and would not budge when we suggested a different one. J She would always team up with somebody. Although the concept is very easy for younger kids to grasp, you need to be able to do basic addition in order to replace cards you want to discard. Nevertheless, partnered with another child worked great even for another girl who was 4 and enjoyed this game with us.
Blink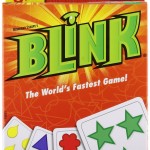 This is a fast-paced game, easy to learn, for variety of ages. The only downside is that it is basically for only 2 players.
Tell Tale Card Game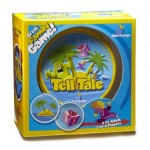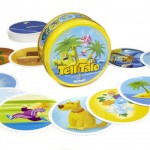 We only have Story Cubes but I think that younger kids would be more inclined to create stories with these cards. If I had known about this game when my kids were little, I would have gotten it.
I have come across the following two games while browsing the Internet. They look good although I am not sure if my daughter would still enjoy them (she will turn 9 next April). Every child is different though so you never know what they'll end up liking. They might be good for families with kids of different ages (something to play together as a family, no matter how old the kids are).
Sharing is good karma: