Sharing is good karma:





A few weeks ago, on back-to-school night, kids in my daughter's class had a multiple choice quiz ready for their parents. Mine was especially hard because my daughter did not list one correct answer with two unlikely ones. Asking about her favorite subject in school, favorite meal, favorite activity, etc., she'd choose three of her favorite things to do so I had a tough time picking the right one. I had to think about whether she'd rather play a board game with us or look at the National Geographic Magazine with her Dad. Guess which one was the correct answer.
Here are some books she's had for a while and keeps coming back to them (the first three are her favorites):
Planet Earth
I came across this book at a local discount store for $4.
What Do You Believe?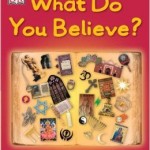 I saw this book at my sister-in-law's in Prague, translated into Czech. My daughter has asked some questions about different religions in the past so I decided to order it. It gives a nice overview of all the major religions in the world. It is a book we read together.
Sharing is good karma: