Sharing is good karma:





Like all parents, we too try to instill good values and certain character traits in our kids as much as possible. Sometimes things from school come up during our family conversations or we catch our kids telling a white lie. We always discuss it but I felt we were not doing enough.
The following is our recent find. It is geared toward children in grade school (definitely not younger). You can get books or CDs. We opted for the audio version to listen to in the car. The narrator can get on your nerves after a while so it is good to listen to the CD for an hour at most and take a break. We alternate this series with other fiction audio books. Otherwise it is well done and good for kids. Read the reviews if you need more information. We finished the first set and are listening to the middle ages now.
The Story of the World: History for the Classical Child: Volume 1: Ancient Times: From the Earliest Nomads to the Last Roman Emperor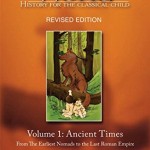 From our library I borrowed The Children's Book of Virtues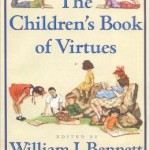 It is a collection of fables, adaptations of fairy tales, true stories, and poems that illustrate virtues such as honesty, kindness, responsibility, etc. Our kids didn't care for the poems much but liked the stories so I decided to find the DVDs based on the book at the library (see the section on educational DVDs).
As this title is a children's version of The Book of Virtues I also looked for The Book of Virtues for Young People to read to my daughter.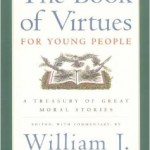 I decided to read it aloud during lunch or dinner. The vocabulary is very difficult and I had to stop reading and explain some words to her because she would not have understood the meaning at all (she is 8 1/2 years old). I found myself paraphrasing the sentences all the time. Although I am sure she'd rather read a Harry Potter book, I believe that reinforcing our attempts at raising individuals with great values is important so I will select a chapter now and then to read to her. It is not a book that could be read at once and my kids will probably get more out of it as they grow older and more mature. I ordered our own copy so that we could just read a chapter any time we are in the mood for it. I found the review Lots of Virtues to Choose From on Amazon very helpful. It describes the difference between the "virtue" books. Maybe it will help you to choose the right one for you.
Big Questions from Little People: and Simple Answers from Great Minds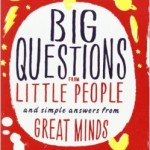 How does fire get on fire? Why do penguins live at the South Pole but not the North?  A fantastic book with a lot of questions, each answered on one or two pages in a way kids can understand. We are hooked. I checked it out from the library to see if it was worth it and we are definitely buying it. Read the reviews on Amazon or here.
They Stood Alone!: 25 Men and Women Who Made a Difference
While reading from a Larousse Kids' Encyclopedia Who is it? (in Czech) I was wondering if there are some good books in English that would give my kids more insight into world history, culture, religion, or art, books about extraordinary people. We have read some picture books about famous people such as Albert Einstein but it was just a matter of luck whether I stumbled upon it or happened to see a review on Amazon. It never occurred to me to write the titles down so all my lists will be ongoing projects.
Last year I ordered They Stood Alone  because I felt my kids needed to hear about remarkable people who had the courage to follow their dreams and face the obstacles life threw at them. I think this is a book you need to own rather than borrow from a library because you cannot read all 25 stories at once. Although the writing is not complicated, the vocabulary used made it a bit difficult for my son (just turning 6 at that time) to follow and enjoy the story. My daughter liked it. We did not read it all but I will make a point of reading one chapter with them every two weeks.Since my son is not able to absorb the information in this book, a part of my project will be looking up picture books that would supplement each chapter so that both my kids remember the stories better. As soon as we start, I will create a separate entry here, listing each chapter and corresponding picture books.
A little History of the World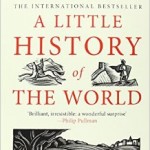 Our most recent addition to our library is Gombrich's "A Little History of the World."t is a history book written for kids that I discovered by chance while reading an article by Winston Sieck. I loved the reviews so I went ahead and ordered it. My husband is sort of a history buff so before anybody got a chance to flip through the book, he took it and started reading it. He says that it is going to be a bit hard for our son (6 ½) but our daughter (8 ½) would enjoy listening to it. I will probably wait a bit and rather start with mythology or books about famous people (They Stood Alone) because those are not as complex as history.Read the short article on how Winston Sieck looked for good history videos that could accompany the book and would appeal to kids. He posted his list in a pdf file on his website.When we decide to read this history book to our kids, I am going to follow his advice and let you know how we liked his choices. I may also try to find picture books to supplement each chapter of this book. Check back in a few months for any updates.
Sharing is good karma: