Sharing is good karma:





Who doesn't like music?
When our kids were little we enrolled our kids in Music Together (classes) and it became a part of our weekly routine for two or three years. Our music teacher was really nice and we loved the songs, CDs, how they taught kids the rythm, etc.; we loved just about everything about it. Then our kids grew and didn't feel comfortable among younger kids in the group, so that was the end of our regular family music hour (our class was at night so that Daddy could join us too).
We'd listen to children's music in the car all the time, whether it was English or Czech. I kind of felt relieved when they got older and asked for the radio. We'd listen to some stations with pop music because that's what they mostly heard at their friends'. But my husband and I grew tired of it too, especially my husband. He said he had had enough of the same hits and small talk he was not interested in. He tuned our car radio to a classical music station. I am usually in a hurry to get somewhere with the kids so when we get in the car I don't feel like looking for a different radio station. I tell my kids, it's either this or nothing. Our kids complained but eventually got used to it. 🙂
A few weeks ago when we were taking my kids' friends to a class (which we do twice a week), one of them asked so innocently "Why do you always listen to the same song?" He sounded seriously concerned about me as if I was suffering from an illness. 🙂 I found his remark hilarious. I explained to him that although the station played the same type of music, it was not the same song. As I was sharing this story with my husband the whole family got involved into a discussion about classical music, what we like and dislike about it. We started talking about opera because our kids know that I sometimes turn the radio off when there is opera playing. I like some operas but I am not a huge fan of it. I don't find it relaxing and have to be in the mood for it. However, we thought our kids should not have a negative attitude to this type of music because it is really beautiful. My husband went on Youtube and found a short video of Papagena! from The Magic Flute, which is one of the most beautiful operas. Our kids were fascinated with it and found it funny. Our son said they sounded like chickens. 🙂
That night I thought about looking for a nice CD introducing kids to opera. I searched online and I discovered more than I hoped for. You'd probably say, "Sure, I bet there are many classical music CDs for kids, including opera. I suspected that. What I didn't know is that there is a series of CDs by Classical Kids that introduces kids to different composers by combining a fictional story containing true facts about them with their music. An ingenious idea! Normally kids wouldn't care much for the music–it would be like another classical music radio station or a regular classical music CD. I requested all of the available CDs from our library and we've been listening to them since then. Our kids love them! How come I didn't know about these before?
We haven't listened to all of them yet but I will list them here anyway. I'll let you know later if there was one my kids didn't like. read the reviews on Amazon to see how other families liked them. I will also list some other classical music CDs that we borrowed from the library to try. It is much easier if you have the titles to request them than if you don't know they exist.
Don't get me wrong, I don't think our kids should listen to classical music only. I actually checked out a lot of pop (and rock) music CDs for my daughter from our library. But it would be a shame not to expose them to this wonderful music if we can. Every well-rounded individual should know about these great composers.
Beethoven Lives Upstairs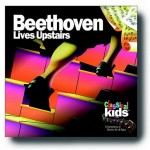 This was the first in the series we listened to. I found also the movie Beethoven Lives Upstairs and asked my kids whther they wanted to watch it. They did. We didn't mind  the Greek subtitles on Youtube. Click here if you want to watch it there. Then we read a short chapter from Lives of the Musicians about Beethoven (see more on that below).
Mr. Bach Comes To Call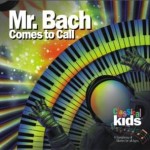 So far this is one that we find the least entertaining. My son thinks this one is boring and I must say that I agree that I enjoyed this one the least. We still have two more to listen to (the two below) so I will give you an update soon.
I also searched online for good books about musicians for kids and checked our library catalog to see if I could borrow them. I think I have found the right ones. So far we focused on Mozart and Beethoven because we listened to those CDs first.
Lives of the Musicians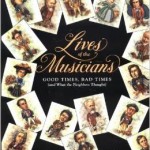 We read a chapter about Beethoven and learned interesting facts about him (very well written for kids).
Wolfgang Amadeus Mozart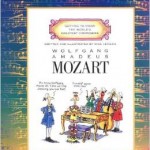 I had not known about Getting to Know the World's Greatest Artists series by Mike Venezia until I began looking for biographies for children. We really liked it because it is written in a simple language, very understandable and interesting. We appreciated the pictures, drawings that showed Mozart and his family, places Mozart visited. What we disliked a lot were the cartoons that were trying to make the book funny. My son (6) did not understand half of the jokes and they just didn't feel right. I would still recommend this book–just ignore the cartoons.
Ludwig Van Beethoven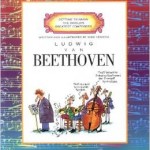 We skipped a few sentences now and then because our kids did not enjoy this book as much as the one about Mozart. I think it is good if you are looking for a book about Beethoven for lower elementary grades but it may be a good idea to look at the pictures and read bits and pieces. I must say that although I disliked the cartoons in the previous book, my kids were very curious about what the bubbles say so maybe it is not such a bad idea to use them after all.
Story of the Orchestra: Listen While You Learn About the Instruments, the Music and the Composers Who Wrote the Music! I really love this books although I don't think it is a book to go through in one sitting. There is not too much information so it is not boring for the kids and the CD is great too.

Beethoven's Wig: Sing Along Symphonies
Our kids liked the silly songs. The only thing we disliked was the name of the first song because Beethoven did not wear a wig and we found it confusing. My kids even remembered the picture from a book where they could see his wild hair. However, my daughter asked to play the CD again as soon as it was finished.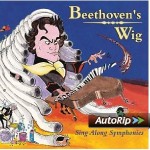 While browsing the Internet I have found other great classical music CDs but have not tested them with my kids yet. Come back in a few weeks for more tips.
Sharing is good karma: