Sharing is good karma:










I came across the first puzzle game when somebody recommended it to me in the Czech Republic. I was playing with the idea of buying it there but then it occurred to me that the brand name was in English so I went on Amazon and checked it out. Wow! I couldn't believe how many there were. Over the years we have gradually accumulated many of these puzzles and although they are for a single person I think it is more fun if you actually sit down to the game together with your child. They always come with a booklet of challenges, from beginners to complex puzzles.
Puzzle games for younger kids (age 3 and up):
Camelot Jr
This one is probably more suitable for a 4-year-old.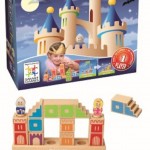 Sharing is good karma: