Sharing is good karma:










I am sure everyone has heard of the benefits of playing with toy blocks. I bet each of you have some at home. I am not going to add another article to the already existing sea of literature on the benefits of building blocks. That's not why you are here.
We, like anybody else, had first Mega Bloks, then Lego Duplo, common wooden blocks in different shapes and colors and then Legos. Since my son loves to build, I soon started a search for an open ended set of building blocks that would be simple but allow him to be creative. I found the answer: flat planks of wood, all the same shape and size that can be stacked in a wide variety of ways—you can build almost anything, including very complicated architectural structures. The set I bought is called City Blocks. We also purchased the colored version. They are the same as the famous Kapla but much cheaper. We use the design booklet that was included, but this set is a great open ended toy that gets the kids' creative juices flowing.
There are several other sets of blocks that are very good.
Lego's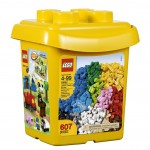 Here is a thought. Buy a box of used Lego's to keep the creative spirit at home. My son LOVES Lego Ninjago and similar sets but he treats them as toys. In other words, he builds the set and never wants to take it apart. He wants to keep the cool vehicle. That beats the purpose of this toy. I decided to go on eBay and buy a huge box of used Lego's because it didn't contain just regular bricks that you get in the basic Lego sets. It has all the cool tiny pieces from Star Wars and other specific sets, however, totally taken apart with no instructions. I love to see him making his own creatures and vehicles. That's what Lego's are for.
ZOOB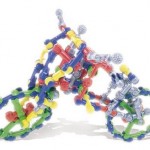 This set is not for younger kids because it takes some strength to connect the pieces. My son was able to play with these after he turned 5 but it is one of the most popular building sets in our home.
I also found this magnetic set people evidently love:
WEDGiTS
This unique building toy allows you to stack and wedge the pieces together to create different sculptures. It comes with a design booklet with ideas. It is a terrific idea but I must say that if I had to choose which building set I'd get for my kids, it would be the ones above because even though neat, it is not a toy my kids would play with on a regular basis. They do like it but is like a puzzle that they take out once in a while.
The same holds true for Connectagons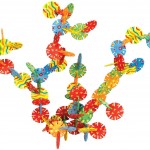 It's not something they'd play with on a regular basis but they like to play with them as well. I think my kids feel they are somewhat limited in their creativity because it is sometimes hard to build a figure or an animal no matter how hard you try to connect the circles. I'd say that this set is better suitable for abstract structures but you may have a different experience.
LaQ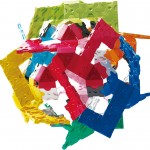 We have discovered LaQ in the Bronx Zoo in their kids' activity corner and my kids fell in love with it immediately. It is mostly for older kids (I would say not younger than 6). The downside is the price tag. I actually got this set on Amazon when it was on sale for around $40. I find they constantly change prices and you have to check often if you are looking for a deal. The price you see might not be there the next day.
Jenga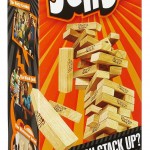 This classic game can be also used like regular building blocks. Our son, in fact, likes to use these quite a lot for building roads and paths.
MindWare Pattern Play
Although it could be used as a puzzle, it is a set of blocks that can let your child's imagination run wild by creating different colored patterns.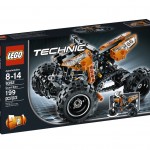 We don't have any sets of Lego Technic at home but I have heard about it. It looks great but the prices are a bit daunting. I don't know if we'll ever buy them but if your kids are into this stuff a lot, it is worth considering.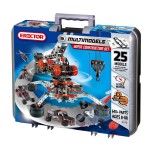 I cannot tell you how these blocks worked for us because my son is only 6 ½ and it is on my list if I feel he needs a different building toy. But just in case you haven't heard of it and have an older boy, I list it here for you to consider: Erector Super Construction Set
The following sets are blocks but also puzzles. I would like to mention them because if you have a child who likes to build, it might be something you'd be interested in. The games are all part of a series so you only need to purchase one of the sets and then you can buy just the booklets for the rest (for example the booklet for Equilibrio is $12 on Amazon right now).  There is no need to buy all though; you can just try one you like the best.

A reviewer nicely described the differences in the series:
The series differs in this way:
Tangramino Game This set builds the structures flat on the table like tangrams.
Architecto Game This set builds upright structures.
Equilibrio Game This set builds upright structures that have challenging balancing aspects to them.
Cliko Game This set gives images to build from a draftsman perspective. You are given multiple views of a structure to build.
Architecto Game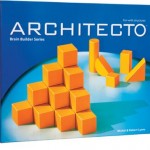 Blocks for younger kids
When my kids were little (about 3 and 4 years old) they fell in love with pipe builders that I got on a sale shelf for $2 in our local supermarket. They played with them very often. A few months ago a little boy who was over at our house couldn't put them down.
I found them online as either Pipe Builders or as Quercetti Tubation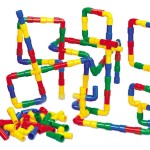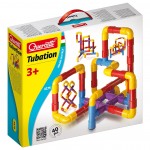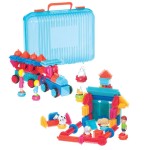 Another good one for younger kids is Bristle Blocks
My kids stopped playing with them when they were about 4 1/2 years old so keep that in mind.
Play Stix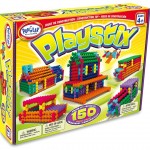 My daughter liked this set more than any other blocks we had at home. They both still play with them now and then.
The following are not exactly building blocks but I feel I should mention them here.
Imaginets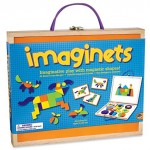 We had several similar sets from the Czech Republic (that's where I come from) but this set would work great if we had to look for one here. You can let your imagination go wild and construct anything using the shapes provided.
Sharing is good karma: