Sharing is good karma:










When you have little kids, the first thing to come to your mind when you hear "creativity" is arts and crafts. But creativity goes far beyond arts and crafts. It has an important role in life, education, and business. Now with the schools focusing on other things, there is not much opportunity left for creativity and such activities have to be done at home.
I am not a believer in home-schooling. I think my kids need to get out of the house for a change of scenery and they should socialize with their peers to learn important skills for life. But I had a hard time finding a pre-school and kindergarten for my kids because most of them focused on letters and numbers; one school even proudly presented their computer room! After a week of visiting different schools, I was down to two. I chose a school with a Reggio Emilia approach. Its program was based on the principles of respect, responsibility, and community through exploration and discovery. I appreciated everything my kids did in that school, from classroom projects to scientific observations.
I know that children need to touch and experience things in order to learn and have wondered what becomes of those needs when they enter a conventional classroom. Creative thinking is essential to a child's success as an adult, so parents must fill in the academic gap. We often go on day trips and travel so that our kids have a chance to explore and put their imagination to work. My son was so excited when he built little houses and gardens for little forest people out of sticks, moss, leaves, etc. when we were in the mountains this summer.
But I feel what we are doing is not enough. Somebody told me when my daughter was born that she will be my greatest teacher. It is SO true. I feel constantly challenged but I like learning about new ideas and always wonder what else I could be doing for my kids. I want my children to have an opportunity for inventing. When grappling with problems, I'd like them to be able to generate not just one, but dozens of possible solutions.  They should also be able to communicate their ideas to other people.
In this section, I will post tips and books I have found useful on this subject.
The latest tip!! My husband recently told me about a website where kids can learn programming in a fun way. My daughter (9) tried it 3 weeks ago and loves it. If your child is craving to be on the computer but you don't want him/her to waste time by playing nonsense games, give it a try.
Scratch
Create stories, games, and animations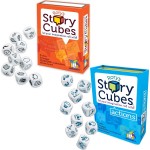 Rory's story cubes
We have them in the dining room and create stories while eating a family dinner (usually once or twice a week, basically just on the weekend). We just throw the dice and take turns picking one and adding to the story.
Tell Tale Card Game 
We only have the Story Cubes but I think that younger kids would be more inclined to create stories with these cards. If I had known about this game when my kids were little, I would have gotten it.
I bought a set of Magnetic poetry 13 years ago. Since I became a mom I have put a lot of stuff away. Now my kids no longer put everything in their mouths, they can read, so I thought it could be fun to make our own word creations on the refrigerator. So far they like it. I bet there are sets for kids, but we just have the regular version for adults.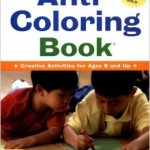 During the search for good coloring books for older kids (I mean not toddlers), I stumbled upon The Anti-Coloring Book series. Reading about these books gave me a different perspective on coloring. Here are some quotes from the Introduction of The Anti-Coloring Book by Susan Striker and Edward Kimmel to give you an idea what I mean.
We give them coloring books that consist of drawings by highly skilled professional artists; we ask them to abandon their own adventurous journey toward creativity and stay within the lines. By the time they have completed the first few pages of the average coloring book, the only thing they will have learned is that adults draw better, by adult standards, than they do. At this point most children spurn their own refreshing and expressive drawings.

This book is intended to set free the child in all of us. Every project is designed to stimulate the imagination and spark creativity, to generate fantasy and expand a child's frame of reference. Most important, there is no uniform solution or correct answer to any of these projects.
Here is an article that made me think about how important it is to give our kids more freedom to explore.  Not that I am trying to raise a scientist but I think it applies to any field.
Here is a playlist of six TED talks The Creative Spark including the famous talk by Ken Robinson How schools kill creativity
Sharing is good karma: