Sharing is good karma:










Here are a few products that are worth buying I think. I stumbled upon these Lunchbox Notes two years ago when my daughter learned how to read. I am so glad I bought them. The notes are very cute, and we have been asked a few times where we found them. My son just started 1st grade and he was SO excited that now he too would be getting the notes in his lunchbox.
Lunchbox Love Notes for Kids
 These cards are sturdier than regular paper and have an encouraging or loving thought on front, fun trivia or a joke on the back.
Lunch Lines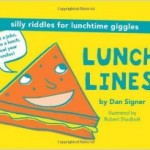 I just tear out a joke and tuck it in the lunchbox. These are just jokes but I feel that my kids don't have to read trivia or words of encouragement every day so I bought these to alternate with the Lunchbox Love Notes.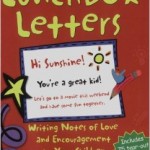 I am seriously considering writing my own notes. Not every day, but for a change. Everybody loves receiving letters, especially if they contain words of love and show your kids that you care. It is a way to get in touch with them during the day, to connect, give them a virtual hug or kiss. I might use just a regular stationery sheet or buy this booklet to make it easy: Lunch Box Letters: Writing Notes of Love and Encouragement to Your Children
The Kids' Book of Questions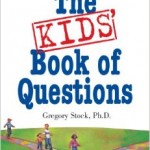 I ordered this book a while ago to use in the car during short rides. As soon as my daughter discovered it at home, she picked it up and began reading the questions. It is a great way to spur conversation and talk with your kids about something meaningful. They pick a question at random and we all answer it. It is perfect for those ten-minute car rides.
Cards for Your Dining Table
 I feel we need to spend more time together as a family ("together" as in talking rather than only being in the same room). My husband comes home late from work every day so we have proper family dinners just on the weekend. My daughter tends to bring her book to the table to read while eating and is oblivious to everything and everybody around her. I think it is okay on busy days but I would also like for us to have discussions over dinner.
I have looked for something similar to the Kids' Book of Questions to use at home over a family meal. Here are a few things we love. In fact, I had to remind my kids yesterday that we cannot go through all the cards in one night. They are all designed to trigger conversations and they are a big hit with any kids we have over.
Choices In a Jar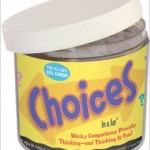 I took them out of the jar because it was ugly on our table. I think they don't require as uch thinking as the other questions and are very popular among our visitors because they are easier to answer and quick too.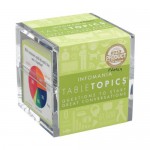 TABLETOPICS Infomania Family: Questions to Start Great Conversations
We bought this set for our dining table because I originally wanted to buy the family version (below) but it was not available for a reasonable price at that time so I got this one instead. We are happy with it because my daughter also likes to read the statistics each card lists. Update: I checked the Tabletopics prices on Amazon today and this one is almost $45 but the Teen version is for $25. It seems the price changes all the time. Keep checking if you intend to buy them. You can also find them for $25 on their website here.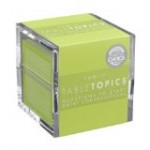 TABLETOPICS Family: Questions to Start Great Conversations  As I mentioned above, I wanted to buy this set because the topics are probably better for family discussions. I don't know how much your kids enjoy reading the type of information my daughter likes. If you are looking for conversation starters, this set might be more appropriate.
Sharing is good karma: