Sharing is good karma:










Balance Bike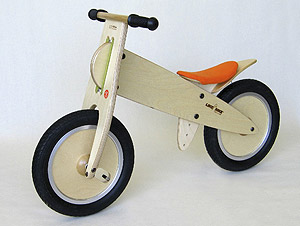 If you have a two- or three-year-old and like to take your kids biking, here is a tip you should not ignore. Buy a balance bike. They are very popular in the Czech Republic and almost every kid has one. But many people here are not aware of them. When my kids were riding theirs in a park there was almost always someone asking about it or commenting on how cool the bike was.
Balance bikes can be made out of wood or metal but they have one thing in common. They don't have pedals. Kids just use both their feet to walk the bike and then scoot. They get it going faster, raise their feet slightly off the ground and cruise while balancing on two wheels. If they lose balance, they just put one or both feet down so it is perfectly safe.
We bought the German LIKEaBIKE because we knew we'd get years of use out of it. It is of excellent quality and adjustable so our kids started using it when they were not even 2 years old. I think it would have been good until they turned five but we just got them a 12-inch (or 14-inch—I am not sure anymore) bike when they were 3 and ½.
We had a nice Kettler tricycle  (with a push bar) that I used a lot for walks around the town as soon as my kids didn't have to sit in a stroller but they never liked to ride it in a park—they would just trudge slowly on the path. And no wonder they were not excited; it is not fun to be as slow as a snail—the fun is in the speed, which the balance bike gave them. Take my word for it, I could not catch up with them once they got the hang of the balance bike. It is also perfect for families that like to go biking and have older kids. The little ones can almost keep up with older siblings.
I read somewhere that if you want to teach an adult how to ride a bike, the best thing is to take the pedals off and teach him/her balance first. I thought that the articles that claimed the kids learned riding a regular bike in a few minutes if they had a balance bike before were exaggerating. But it took literally two minutes for both my kids to learn how to ride a bike, no kidding. So do yourself and your kid the favor and give it some thought if you don't own one. We sold ours on craigslist so I bet you can find one used if you don't feel like spending too much on it.
Here are two articles on balance bikes that can give you more insight.
Bye-Bye, Training Wheels. Hello, Balance Bikes
I did not include any links to balance bikes because there are a lot of brands available online and you need to choose one that is right for your family. If you are shopping for your first child, I'd say it is worth spening more money and get a better bike, not made in China. That's what we did and we did not regret it. When we were deciding on our bike, I read somewhere that the quality and features go down with the price. I got a balance bike made in China for our friend at a yard sale but it was too high for him and the seat was not adjustable. Ours had several positions and our kids could reach the ground at 20 months. However, if you have three children and you want to buy a balance bike for the youngest one, look at other options. We sold ours on craigslist so you can try your luck there.  I just typed in "balance bike" in the search window and got plenty of results.
Buying a bike
We are not serious bikers, you know, those families dressed in tights, riding a bike every weekend. But we like to go biking more than just to a park. Before our kids were born, the most we rode in a day was around 31 miles. When they were little, we'd take them on an occasional bike trip in the child seat during our vacation (e.g. in Acadia NP where it would be a shame not to explore the network of carriage roads on a bike). When they were 1 1/2 years old, they got a balance bike (see a post about them), then they graduated to a 12-inch at age 3.
Once they outgrew the smallest bikes, I started looking for a bicycle that would be better than the heavy, often wrongly assembled bikes from stores like Wal-Mart, Toys'r'us, Target, etc. On the other hand, we were not willing to shell out $300 or more for a bike our kids would outgrow in a year or two. What we wanted was decent bicycles that would allow us to take day trips with our kids so that they'd enjoy biking and learn to love it but that wouldn't cost us an arm and leg.
So I did my usual thing. I spent a few hours reading on the subject online. Here is an excerpt from International Bicycle Fund:
There are literally hundreds of brands of kids' bikes.  We don't have the resources to collect, test and rank even a fraction of them, and we don't know anyone who is.  A second problem for the consumer is that most of kids' bikes are being sold at stores where you can't trust the employees to know the difference between coaster brakes and side-pull brakes, and they similarly don't know very much about the quality of bikes on the showroom floor.  A third problem is often these same employees assemble the bikes — with no formal training as bike mechanics — so even a good bike may be assembled wrong, making any rating dubious.  Given the circumstances, caveat emptor!
The best we can do is to try to educate consumers so that they can make a more informed decision about what is a good bike. (to continue reading, click on the link above)
After having read repeatedly how bad the bikes in major stores are (WalMart, Target, Toys'r'us etc.), we went to a few bike shops. Some stocked several kids' bikes but the prices were pretty steep and we felt that the owners were not really helpful; they were just trying to sell the bikes on the floor. I went online again and looked for the best bikes (without gears) in our price range. I found one that people everywhere in the US were raving about (see it below). Then I discovered a small, family-owned bike shop 5 min from our house. The guy was very knowledgeable and although he had only one or two kids' bicycles in the store, he showed me some on the computer and said he could order it for us, assemble it plus we'd have any service on the bike for a year (or maybe even longer) for free. We were sold.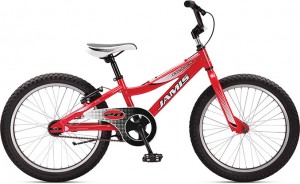 We bought the bike I researched, Jamis Laser (in red), for my daughter. We figured that if we bought a bike at Wal-Mart for $100, we would never be able to sell it in a few years for more than $15 but if we spent a bit over $200 on this one, we could easily sell it later for $70. The difference in the price is not as bad as it could seem.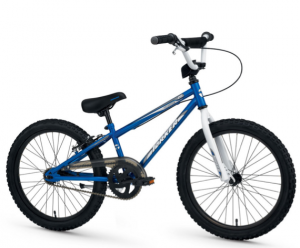 When our son was ready for a bigger bike, our daughter was still using her Jamis so we went searching for a bike for him as well. Our kids are 22 months apart and it didn't make sense to buy a smaller bike than a 20-inch for our son because it would last him a year max; however, he was just not tall enough to reach the ground on a bike of that size. Again, we visited the small bike shop, and the owner recommended Torker Throttle 20, on which he could lower the seat so our son could put his feet down on the ground. It was even cheaper than the Jamis. (Here is another link)
We are very happy with both bikes and our kids have successfully biked 20 miles in a day. We didn't feel it was necessary for them to have gears yet. We choose mostly level bike paths, with small inclines or hills. Next spring we'll be shopping for a bike with gears for our daughter. While doing research on the bikes for our kids, I have come across this pdf guide of best bikes on Steve the Bike Guy website. I have not studied it closely yet but if you are shopping for a bike for your child, it might help you pick the best one for you.
And last but not least, if you are on the lookout for good but cheap adult bikes, check out this website that was recommended to us by our friend who is a more serious biker than we are (we took his advice and bought our bikes there for $300 each).
We also searched for a good bike rack for our car. Since your choice of a bike rack will depend on your needs and type of your car, it may not be useful to you but I have been asked by three friends which bike rack we bought so I decided to post it here.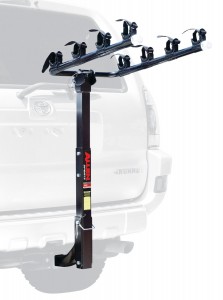 Allen Sports Deluxe 4-Bike Hitch Mount Rack Last time I checked, it was just $70, now it's $90–or maybe not anymore. Like with everything on Amazon, keep checking because the prices fluctuate a lot there—in my experience the price you see today might not be there tomorrow or next week but it can come down again the following week.
Sharing is good karma: