Sharing is good karma:










I know there are hundreds of websites with healthy recipes. I am not trying to create a new one. I might post an occasional recipe I found, tried and liked or post a link to it. I also know that a lot of my friends sometimes ask for a recipe for a meal they liked at our house so this will be the place where they can find it.
I am always on the lookout for new tips and recipes, meals that my kids will be willing to eat without my having to remind them a hundred times to finish their dinner. I care about what we eat a lot.
I don't claim that my kids have perfect eating habits because I know they don't. They know that certain type of food is not good for them but if they get a chance to stuff themselves with potato chips they will. I am still trying to teach them to give up candy at Halloween parties but I have been only partly successful. My daughter asks every day what we'll have for lunch and dinner in order to either look forward to it or dread it. I am always excited when we try something new and healthy and they like it.
As a first tip, I'd like to mention a website I learned about thanks to my Czech friend in MA:  100 Days of Real Food.  I found a lot of inspiration there.
100% Organic Ghee from Grass-fed Cows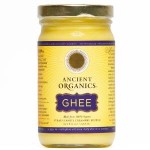 I have only discovered this gem a month ago but I can't cook without it anymore. I had never had ghee before but so many reviewers mention that they had tried other brands before this one (and that this one has the best flavor) that I didn't bother to try anything else. I often need some kind of oil to sauté vegetables and tofu, or make brown rice or quinoa patties. I grew tired of coconut oil because I can taste the coconut in everything. Olive and avocado oil are great but ghee gives our food such a good flavor that I just fell in love with it. The downside is the price tag. I have noticed that the price fluctuates on Amazon. The smaller size (16 oz) was $20 when I bought it but then it jumped to $35, then it was $22 a week later. The 32 oz is $35 plus almost $9 shipping if you don't have Prime. Just keep checking the price on the small size and when it goes down, try it.
The latest tip!!
My husband recently told me about a website where kids can learn programming in a fun way. My daughter (9) tried it 3 weeks ago and loves it. If your child is craving to be on the computer but you don't want him/her to waste time by playing nonsense games, give it a try.
Scratch
Create stories, games, and animations
Sharing is good karma: